Places
In this section you can take a closer look at some of the actual places related to the Parker/Hulme case.


Ilam homestead
---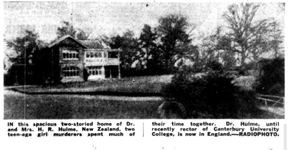 Ilam is a suburb of Christchurch, New Zealand about five kilometres west of the city centre. Today it is the location of the University of Canterbury. The suburb was named after the ancestral home of the Hon. John Watts-Russell (1825–75), who hailed from Ilam Hall in Staffordshire, England. He settled in Canterbury in 1850, arriving on Sir George Seymour and named his property Ilam. The Ilam homestead was in the 1950s inhabited by the rector of Canterbury College, Henry Rainsford Hulme. In 1954 the homestead gained notoriety as Hulme's 16-year-old daughter Juliet was involved in the Parker/Hulme murder case. The homestead was used as a major location for Peter Jackson's film Heavenly Creatures. The homestead has been the University of Canterbury Staff Club since 1971. Currently the historic Ilam Homestead is for hire as a wedding/function location: 'Ilam Homestead is the perfect venue for your function'.
But I would like to take you on a tour, to the gardens of Ilam, in 1954, enjoy!
More...
---
More will follow, probably starting with Christchurch in the fifties ...


>