Director
Peter Jackson is the director of Heavenly Creatures. In this section we'll start with a few quotes from from an interview from around 1995, then a short filmograpy, and end with the complete interview.
Quotes
[talking about how he made the murder scene of Heavenly Creatures]:
"We went to the murder site, and we just felt uncomfortable about filming there. It was very strange, and maybe it was just our imagination, but it was very quiet, very tranquil. I mean, all the way down the path you hear the wind and the birds, and suddenly, when you arrive at the spot, you hear nothing. So we filmed the murder scene at Victoria Park, but it was on a different track, about a hundred yards away."
---
[talking about the feedback he received from Wendy Rieper, Pauline's sister, after viewing Heavenly Creatures]:
"She thought that the portrayal of the tension between Pauline and her mother was very accurate. It was nice, because Wendy is one of the few key people alive who refuses to talk about it. She absolutely refuses to have anything to do with journalists, with anyone, so it was actually very sweet of her to get the message back to us. It was quite amazing to us that she had even gone to see this film. She thought it was good, but incredibly difficult to watch."
---
[talking about the research work he did for Heavenly Creatures]:
"The structure was fairly apparent once we started to do research. It wasn't just the diaries themselves, it was the general research. We read as much of the diaries as we could--we haven't actually ever seen the full, unedited diary, but we gathered as many of the excerpts that were released at the time of the trial as we could, which amounted to quite a few pages. And we read the newspapers, and interviewed people, and then the three acts sort of materialized quite neatly. You know, act one is when the two girls meet and become friends, and the turning point is at the end of the first act when you realize that they are now bonded."
---
Peter Jackson
Peter Jackson was born in New Zealand on Halloween 1961. His first film, BAD TASTE (1987), was produced on a showstring budget over a period of four years. It eventually became a cult classic and was even shown at the Cannes Film Festival. Jackson's next film, MEET THE FEEBLES (1989), a sort of adult version of The Muppet Show, was even more audacious and outrageous. Jackson's third feature film, the zombie splatter movie BRAINDEAD (1992), finally meant a breakthrough. Critics began to note Jackson's talent: Village Voice called it "hysterically funny", while The Hollywood Reporter correctly predicted it would become a cult favourite.
Though he was celebrated by horror fans worldwide, Jackson's reputation remained distinctly mixed at home. This situation would change drastically after the release of HEAVENLY CREATURES (1994), inspired by the Parker/Hulme case. He had never craved respectability, but now he had it (including rave reviews from Time magazine, Variety, and The Guardian). The film took his own career to another level, and launched careers for its teen stars, Melanie Lynskey and Kate Winslet. Heavenly Creatures won a Silver Lion at Venice, and Walsh and Jackson were nominated for a screenwriting Oscar.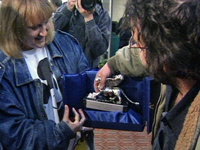 In 1996, Jackson teamed up with Robert Zemeckis to direct THE FRIGHTENERS (1996), another horror comedy, but this time with expensive digital effects. Jackson's next project was a mock documentary. FORGOTTEN SILVER (1996) detailed the re-discovery of the oeuvre of a (fictional) master filmmaker. In 1997, Jackson again collaborated with Zemeckis on the latter's excellent science-fiction drama CONTACT. From then on Jackson worked on the hugely successful LORD OF THE RINGS-trilogy, the first part of which was released in December 2001.
The Lord of the Rings trilogy was a mammoth success, critically and commercially. Finally, Jackson found himself at the head of a proud Kiwi contingent at the 2004 Academy Awards. With 11 Oscars in the bag, Lord of the Rings was officially as big as Ben-Hur and Titanic.
The writing trio of Jackson, Fran Walsh and Philippa Boyens segued from Tolkien into remaking Jackson's beloved King Kong, using many of the creative team that had worked on the Rings trilogy. It won three Oscars (two for sound, one for visual effects), and saw Jackson's direction nominated for a Golden Globe.
The Jackson/Walsh/Boyens trio next adapted Alice Sebold bestseller The Lovely Bones. The result met with mixed reviews, although Time critic Richard Corliss was not alone in praising both the film and the BAFTA-nominated performance of teen star Saoirse Ronan.
Next came a keenly anticipated adaptation of Tolkien's The Hobbit. Ultimately Jackson took over the reins of the production from Pan's Labyrinth director Guillermo del Toro. Initially intended to be a two-parter, the project became a trilogy: An Unexpected Journey opened in December 2012, and proved one of the year's biggest hits. The Desolation of Smaug followed in late 2013, then in 2014 The Battle of the Five Armies.
Jackson then moved into documentary, via two high profile projects: the BAFTA-nominated They Shall Not Grow Old (2018), which used modern technology to reinvigorate footage of the First World War; and The Beatles: Get Back, which utilised footage shot for troubled Beatles project Let it Be.
Today, the shy kid from Pukerua Bay is no more. Peter Jackson has lost all trace of a formerly crippling stutter. He's a tycoon whose doings are regularly reported in the front pages of the newspaper that formerly employed him in its basement. As his friends always said of him, he was the sort of guy that wanted the whole electric train set.
Jackson's achievements include rescuing the nation's ailing Film Unit Laboratory and transforming it into Park Road Post, a world class laboratory and sound mixing facility. Weta Digital employs hundreds of artists and technicians, and has become a sought after provider of CGI spectacle for Hollywood films, including Prometheus, Rise of the Planet of the Apes, and visual effects Oscar winner Avatar. Jackson's longtime collaborator Richard Taylor runs a workshop next door, designing and manufacturing armour, props, and miniature models.
Jackson has also mentored emerging talents. He was a producer on sci-fi hit District 9, which marked the feature debut of South African talent Neill Blomkamp, and on Mortal Engines, the debut of Jackson's longtime storyboard artist Christian Rivers. Having branched into co-production agreements with giants like Steven Spielberg (Tintin) and video game development with the likes of Microsoft, Jackson has the world of entertainment at his feet.
Interview (around 1995)
A Talk with Frances Walsh and Peter Jackson

Peter Jackson and Frances Walsh were both born and raised in Wellington, New Zealand. Jackson's first film, Bad Taste 1988), was made by the director over a period of several years while he was working as a photo apprentice at a local newspaper. Jackson's two following films, Meet the Feebles (1990) and Braindead (1992), were co-written with Walsh and Stephen Sinclair; the latter was a hit on the film festival circuit, winning 16 international prizes including a best picture award from the Academy of Fantasy, Science Fiction and Horror.

Jackson and Walsh (who had previously written for episodic television in New Zealand) co-authored the screenplay for Heavenly Creatures, which went on to garner nominations for both an Academy Award and a Writers Guild Award. Their latest collaboration is The Frighteners, executive-produced by Robert Zemeckis and starring Michael J. Fox; it will be released in 1996. Jackson and Walsh live in Wellington with their son, Billy.

Fran, my understanding is that you were the first to become interested in the Parker/Hulme murder case as a film subject. It seems to be a popular topic in New Zealand.

Frances Walsh: Well, popular topic-I'm not sure about that. But it's certainly a piece of New Zealand criminal history that has entered into the realm of myth. And as a young girl growing up, I knew about it, and had read lurid newspaper accounts- "Lesbian killers' rampage"?

FW: Yes, yes. And I also got my hands on a novel called Obsession, which I read when I was about 14. I thought at the time that it was extremely good. [laughs] It takes a very damning view of the girls-it's written by two English journalists who came out here to cover the trial. It was something of a hack job that set out to sensationalize the case.

And there was also a play, wasn't there?

FW: Yeah, there's been a play, and there have been nonfiction books written about it. There's also been a great deal of coverage over the years in newspapers and magazines, so it's always had a profile here.

Since it had already been treated in all of these different ways, what compelled you both to explore the subject again?

PJ: Well, we didn't really think it had been treated that well. Nothing that we had read did we particularly like. And also, the other various treatments all seemed to have a specific agenda, which attempted to make political statements about the murder. What interested us was to show these two 15-year-old girls with no other agenda than to be as accurate as we possibly could, and to somehow imagine what was going on inside their minds.

I know that all of Pauline's voiceovers from the film are from actual diary entries. You made an interesting comment awhile back about how they actually informed the structure of the film. Could you elaborate on that?

PJ: Well, the structure was fairly apparent once we started to do research. It wasn't just the diaries themselves, it was the general research. We read as much of the diaries as we could-we haven't actually ever seen the full, unedited diary-but we gathered as many of the excerpts that were releasedat the time of the trial as we could, which amounted to quite a few pages. And we read the newspapers, and interviewed people, and then the three acts sort of materialized quite neatly. You know, act one is when the two girls meet and become friends, and the turning point is at the end of the first act when you realize that they are now bonded.

FW: It's when they have their first delusional experience together at Port Levy, where they go into the Fourth World. You know these two girls have an imagination that's going to lead to something interesting happening. The second turning point comes with the decision to murder Mother, which tips the story into the third act.

Whom did you interview to cull together all of this information?

PJ: Well, we went through about 35 or 40 people. We wanted to interview as many people as we could find. Several refused. We talk to about 15 or 16 of their classmates, which was experience. These were 55-year-old women spread out around the country, and they all had changed their names because they'd gotten married. It was quite a detective job to find them.

I read somewhere that the school was not particularly enthusiastic about this; did they help you locate the ex-students?

PJ: No, the school didn't want anything to do with it. Christchurch Girls' School had erased these two girls from their history. The yearbook that had the class photograph with Pauline is no longer available. If you go to the school library, they have all the yearbooks available apart from 1953's, which has her photo in it. It sort of cleansing of the books. The school didn't recognize what it was we were trying to do, which was to redress the issue. Why wipe these girls off the school records? I mean, they were human beings.

FW: Peter and Jim Booth, the producer of the movie, went to see the headmistress of the school, and after they explained what we wanted to do, and allowed her to read the script, her only comment was, "Why can't you make a film about pupils of whom we are proud?"

PJ: We also heard from several sources we interviewed that on the day after the murder happened, the headmistress at the time stood up in front of the assembly and said, "No girl is to discuss a certain matter." This was, like, the day after two of their pupils had murdered somebody, and they couldn't even refer to it directly. Forty years later, we got the sense that the school was exactly the same. And that really gave us all the more reason to make the movie, because we felt that these people were still living in the 1950s. We found that with a lot of the people we interviewed-that even though 40 years had gone by, they were still presenting attitudes of the '50s: this was some dark, sordid little thingthat was best kept quiet and should never be mentioned. Many times we got, "Why on earth would you want to make a film about this?" We should just forget about it, and hope it will somehow disappear."

And we actually thought about doing that. But within 20 or 30 years most of the people connected with it will be dead, and at that point in time we'll never know anything about it. We felt it was a good time now, while there were still quite a few people alive, to do the interviews and try to get something accurate, for the record. We were also aware of the responsibility we had, because film is such a persuasive medium, and we knew that, unlike any other medium-the newspaper accounts, the play-itcan give an audience visual images, which, in a way, almost replace the real event, especially if you weren't born at that time. So we thought if we made a film now, perhaps people in New Zealand would look upon this case in a different way. That was a responsibility we felt that we didn't want to take lightly.

Pertaining to that quest for accuracy, how does one go about reconstructing, for instance, conversations between Pauline and her mother, or other scenes for which there is no direct documentation?

FW: Well, all you can do is attempt to find out as much as you can about the people involve-the type of people they were, their class background, etc. So to that degree, we spoke to people who knew the Riepers, for example, who had good knowledge of the girls.

Did you interview any of the boarders in the Rieper house?

PJ: Yeah, I did, very briefly. We found one of the boarders, who spoke to me on the telephone. I did the interview, and then the following day I called him back to ask him some more questions and he clammed up; he didn't want to talk to me anymore. He'd obviously gone home to his wife, and she'd wound him up about the whole thing and told him he shouldn't be involved with it.

FW: I think our understanding when we set out to write this was that we would never be able to re-create the right interiors, with characters who precisely reflect the people who were really there. Our intention was to be true to what we understood of the girls' friendship, and the nature of that friendship and the nature of those families from which those two girls came. It was never an attempt to re-create reality. We could never do that, obviously. So we went into those things with the spirit of trying to reflect the situation, rather than reality.

PJ: The Hulme family were a lot easier to research than Pauline's family, because the Hulmes were public figures at the time. Henry Hulme being the rector of the local university, there were obviously a lot of university people we could talk to professors, students-who worked with him. Hilda Hulme was also quite a public figure. They were, in some respects, the royalty of Christchurch, because the English class system was and still does exist down there, and they all take these things quite seriously.There used to be garden and tennis parties at Ilam, and there were a lot of people who had social contact with the parents and Juliet at the time.

The research actually carried on through the shooting of the film. I remember when we were in England, auditioning actresses for the part of Juliet before we found Kate Winslet, and we found out that [the late] Anthony Quayle, the English actor, had actually visited the Hulmes in Christchurch in the '50s, so we tracked down his wife and spoke with her. The research just kept on going all the time. We had trips to Christchurch to do our research, but once we started working on the film, we moved there for nearly five months, so it was an ideal opportunity to find others. We'd hear things about this person who had sat next to Pauline in typing class, and we'd rush around to see them.

I'm sure the production got a certain amount of notice in the local media, so people probably approached you.

PJ: To an extent, but not as much as what we had hoped. Pauline's people were actually quite difficult to research, because they just weren't public; they were quite private people.

FW: We have heard, subsequently, that Pauline's sister, Wendy, has seen the film. She still lives in Christchurch. Her con meets were that the film managed to capture the atmosphere of her home at that time, but her criticism was that the family was "better" than that, we had portrayed them in too shabby a light. And that really touched me.

PJ: She thought that the portrayal of the tension between Pauline and her mother was very accurate. It was nice, because Wendy is one of the few key people alive who refuses to talk about it. She absolutely refuses to have anything to do with journalists, with anyone, so it was actually very sweet of her to get the message back to us. It was quite amazing to us that she had even gone to see this film. She thought it was good, but incredibly difficult to watch.

In gathering all of this material, I'm sure there were certain things that didn't "fit" dramatically. Was there anything you were tempted to use but didn't, because it was either too sensationalistic or too ethically questionable?

PJ: There was one area we deliberately steered clear of that we felt ultimately didn't have a relation to what we were wanting to tell, and that was that in the Rieper household there was actually a younger sister, named Rosemary, who had Down's syndrome, who is still alive; Wendy still looks after her. At the time of the murder, Rosemary was only 8 years old. This made Honora's life all the more difficult: the daughter lived in a special home, and would come home on the weekends. Pauline writes about Rosemary a lot in her diaries; she was very fond of her. But it was one area where we felt that we were being too invasive into the privacy of this family.

As you say, there was quite a bit of stuff we had to leave out for structural reasons. Pauline's diaries are very, very funny. We ended up using a lot of the more dramatic material in the movie, in the scenes in which she's talking about murder and suicide, but unfortunately we had to leave a lot of the funny things out. She records hilarious conversations that she and Juliet had, and it's all very witty.

Sometimes we used diary entries and just dramatized them, as opposed to using a voiceover. Like the sequence where they go into the Fourth World, where the hilltop changes into a magical landscape. That is described in detail in the diary. So it was a case of having to be very selective, and at the end of the day, it was the more dramatic selections that made it through to the movie rather than the funnier stuff.

The girls' sense of humor does manage to come through in the film, though. I'm thinking, for instance, of the last scene in the Rieper house, when the family is having lunch with Juliet before the two girls and Honorah go to Victoria Park. Were their snide comments about Sir Edmund Hillary in the diary, or were they invented by the two of you?

FW: That was out of our imagination. We were told that they were extremely jolly at that last meal-it was actually in the court records-and that they were cracking jokes, and saying silly, outrageous things, on a sort of giggly high. And we knew that Wendy had worked at Farmer's, the localdepartment store, and also what had been very big in the news that year was Sir Edmund Hillary, a New Zealander, climbing Mt. Everest. He had been knighted, and became a huge national hero; he still is. Because he'd also spent time in Christchurch, we felt that this was an appropriate thing for them to send up, because whatever they did, they were terribly irreverent. If the Queen was visiting, for example, they wouldn't bother to go out unless it was to take note of the decorations, the pomp and ceremony, to enrich one of their own royal celebrations. They really had no respect for the icons of the day; their interior world was much more important to them.

The film critic for Time, Richard Corliss, likened you to a "physician who assumes a patients fever in order to understand her illness." At what point did you two decide that this was going to have to be presented from the girls' point of view?

PJ: I think from the beginning. That was one of the motivations for doing it. None of the accounts we came across were from the girls' point of view. Like we'd said before, they all had other agendas, so we felt that telling the girls' story was important. It did take us a long time to be able to do that, because it took us a long time to learn who they were, and what was driving them. We were a bit confused-there was a bit of mystery at the beginning-but the more we read, the more we talked to people, we gradually began to formulate who these people were. Ultimately, there was a lot of Pauline that I could recognize in myself, which was very useful.

You, too, Fran?

FW: I felt that the diary: offered the first insight into the friendship, and into Pauline in particular. It was an extremely interesting account of her life, documenting both dramatic and mundane events with a great deal of literary flair. She was a very imaginative, funny and clever young woman who had some quite pretentious ideas, as teenagers do, and I warmed toward her immediately. Reading the diary made me wonder about the huge discrepancies between this young woman and the monster who was portrayed in the newspaper accounts and everything else. And I thought it would be great to take that journey to find out who she was. Because no diary of Juliet's survived-we have heard from people that she did keep a diary, but it was destroyed-I thought it would be harder to get to know her, but that really wasn't the case, because she appeared to be someone who more readily shared her life with people; she was much more of a social creature than Pauline. So it was a combination of the private world that they shared and the understanding that we got from talking to their school friends, inparticular, that gave us insight into the nature of these two girls and the way they appeared to the rest of the world.

I think it's fair to say that both Peter and I felt hugely sympathetic toward Pauline and Juliet, and we did start to identify and empathize with them, all the while trying to keep in balance the knowledge of this terrible act. It was that dynamic, of really liking them, but feeling abhorrence at what they'd done, that kept the thing alive for so long in our minds, and gave the film inner life.

Peter, your camera work, in all of the films you've directed, is extremely dynamic. In 'Heavenly Creatures,' the almost hyperactive camera seems to have an organic relationship to the girls' euphoric state. I've noticed in this script that a lot of these camera directions are written in, with more detail than most other screenplays I've read. Do all of your scripts read like this?

PJ: In this particular screenplay, camera movement came quite readily during the writing stages. At the end of the day, the script is not the document we want to go out and sell; it's the document that the cast and crew have to read. When we write a script intended for me to direct, it's right from the beginning a shooting script; a document for technicians to use. You know, the grips put a circle around the word "DOLLY" so they remember on that particular day of shooting they're going to have to have it on the truck. With this movie, probably more than any other I've done, the camera moves were integral to the scriptwriting. I'll tell you where that came from: the music. We read very early in our research that Pauline and Juliet were both obsessed with Mario Lanza. Neither of us were familiar with his music, so we went out and got some of his records, and before we started writing we played through them and came across several songs that we really liked. One of the very first ones we heard was "The Donkey Serenade"- FW: Well, we knew that was important to them because Pauline had named one of her novels "The Donkey Serenade."

PJ: When we heard it, just the life and vitality in the song immediately indicated Steadicam. [laughs] It immediately told you you had to have a moving camera. We chose all the songs that were in the movie, and, in the case of "The Donkey Serenade," wrote scenes around them. I found it a great visual tool. It's never happened before in anything I've done-I mean, I've never had the music in advance. We had these songs playing while we were working to get ourselves psyched up to write a scene. At the same time, the music helped me visualize, so that visualization ended up going down on the page. Of course, once you actually arrive on the set, and you have the actors and the camera people there, things can change. I don't regard anything that's written into a script in terms of a camera direction asbeing locked in stone.

How long did it take the two of you to finish a first draft?

PJ: Not really long. I think the first draft was written in probably 10 or 12 weeks. But we didn't start to write until we'd uncovered several months' worth of research.

And the draft we're publishing is the shooting script?

PJ: Yeah. I think that's about draft number five. We did an interesting thing. We did a certain amount of research first, while we were still working on Braindead [Dead Alive in U.S.], and then we wrote the first draft from the position where we felt we knew some of the facts, but there were a lot of gaps. We thought if we wrote a draft we would know where the holes were, and we would know what we had to pursue in terms of research. For instance, Fran and I had never been down to Christchurch when we wrote this first draft, and Christchurch is such an integral part of the story. Then we made the trip down there before the second draft and were able to modify a lot of things, interview lot more people. We actually did that on purpose, because we wanted to nail the story before overlaying it with a lot of historical detail.

How do the two of you handle writing collaboratively?

PJ: Well, it depends. You know, if Fran's working on some re-writes while we're shooting, and I'm on the set, she'll show me some work that she's done when I come home and we'll revise it together, but generally, when we're actually writing the initial drafts of the script, it's always together.

I think that we both have a good understanding of structure, which helps, and I'm obviously very visually oriented, and Fran is very good on dialogue and character, so we complement each other quite well. I think the best advantage that we have in writing scripts together is that we write a script that I go and make, which is, I think, a wonderful thing. It would be a strange experience for us to write a script that someone else was going to make, because we've never actually experienced that loss of control that so many other writers have. So right from the very beginning, it's a movie. It's not a piece of writing that's going to go out to the marketplace and may or may not sell.

Just one little thing. Even though Heavenly Creatures was very much written by the two of us, my favorite scene in the movie was written by Fran by herself.

Which one is that?

PJ: Well, it was late one night, and we were hoping to finish the first draft of the script-it was, like, ten o'clock already-and we had arrived at the sequence in the tearooms where they're having their last cup of tea before they walk down the track. We sat there wondering how on earth we were going to write this scene. We knew they'd actually gone there to have tea because we'd spoken to this very elderly woman who had served them. She said they were talking quite calmly to one another. But what dialogue do you put in their mouths at this particular moment, when this woman's about to be murdered? Well, the phone rang, and I got up to answer it and ended up stuck on this call for about 45 minutes, and I came back and Fran had written something. She asked me to check it out, and it was never revised: it's where she slides the plate with the last cake over to Honora, and says, "Go on, Mother, treat yourself." It was perfect.

I know you found Kate Winslet at an audition in England. How did you come across Melanie Lynskey, who played Pauline? I understand she was not a professional actress.

PJ: Well, it's one of those stories that sounds like it's not true. We wanted to cast someone in New Zealand, and we'd auditioned a lot of people-five or six hundred-who were either videotaped or photographed. I wanted to find someone who was young, around 1S or 16 years old; I didn't want a 23-year-old in a school uniform. And we wanted someone who was physically very much like the original Pauline; I have a thing about being as accurate as possible. So we quickly exhausted the professional actors in New Zealand who happened to look like Pauline-there's only about one or two. [laughs] We knew we were looking for someone with no experience, but we just had to find them. We kept saying, "Somewhere in New Zealand there's somebody who's perfect for this role."We were actually about four weeks away from beginning shooting, and we had one or two people on the short list, neither of whom we were happy with, but we were coming under enormous pressure to cast one of them, because, you know, the wardrobe department needed to make costumes, and so on, and Fran said to me, "You're not really happy with the choices, are you?" And I said, "No." And she said, "This is crazy; we've spent all this time and energy on this film and we haven't found Pauline. This is something close to a major tragedy." I was in Christchurch, so Fran decided to drive with a casting person around the lower half of the North Island of New Zealand-she was prepared to drive as far as she had to. They'd visit every small town, go to the local school, visit the principal's office and show a photo of Pauline Parker. She'd say, "We're making a movie about Pauline Parker; do you have any pupils in your school who resemble her who might be interested in this?"

FW: We were in a rusting Ford Cortina, and we had no official I.D. We'd roll up to these provincial schools, and we'd be greeted by some curious teacher. Although no one ever once questioned our authenticity, we would always get asked about the car: "If you're in films, why aren't you driving a Porsche?" [both laugh] So then I would pitch the story to the entire classroom, scanning the room the whole time, looking for sullen, brooding school girls, all the while thinking, "What would she look like with her hair dyed black?"

PJ: I guess that went on for about a week. Every night I'd get a call from Fran. Anyone that was vaguely appropriate was videotaped, and I got a couple of tapes in Christchurch, and it was a bit depressing. Finally, Fran called from a small town called New Plymouth, and said, "I think I've found someone very interesting. ' And this was Mel. We flew her down to Christchurch and gave her an audition and a screen test, and we cast her two weeks before the film started shooting. I called her mother up on a Friday night and said, "I'd really like Melanie to do the film." And she said, "When does she have to start?" And I said, "Well, she's got to come down here on Sunday." The poor girl didn't even get a chance to go back to school to clean out her locker.

Do you think there was any correspondence between the two actresses and their backgrounds and those of the characters they were playing?

PJ: One of the things that we knew about Pauline was that she was incredibly witty and intelligent, and Melanie was very similar-she was the top student in her province in many subjects. And we knew if we cast an intelligent person, then they were going to hit it. Melanie's also very enigmatic. The character of Pauline doesn't have an enormous amount of dialogue. In a sense, the real Pauline Parker speaks for her, through the diaries. So what we were looking for was an actress who has that kind of aspect to her that's a real movie-star thing: where you can film somebody sitting in a room, doing nothing, and they're still fascinating to watch. We found that in Mel.

I've read that you used actual locations for some of this.

PJ: As much as we could. The only location we couldn't use was Pauline's house, which had been torn down. Fortunately, the school is now a community center; the actual school moved to a different location, so they no longer had control over the buildings; otherwise we'd have definitely been refused permission. The school buildings are now owned by the Christchurch City Council, which has done nothing to them; they're as they were 40 years ago. They just rent out the various rooms to community groups. We found out what classroom Pauline and Juliet actually were in, and it was the Canterbury Women's Embroidery Guild-it sounds like something out of Monty Python-and we went into the room and right down one length of the wall was this huge tapestry that had been stretched out on this massive frame. I thought they would never want to take it down, but we managed to get them to do it. So that was the actual classroom where they were, down to the seating.The Ilam house, where Juliet lived, is still there. It's owned by the university, and they were very happy for us to use it. As for the doctor's surgery, where Pauline is interviewed by the doctor, we found out the address, and-you know, this is 40 years later, so you have no idea what to expect-it was just, like, a suburban house. We thought that was strange, in that it didn't seem like a doctor's office. Anyway, we knocked on the door, and the woman who answered happened to be the doctor's daughter-the doctor's long since dead-and we asked her where her father's office had been, and she said, "Oh, he had rooms out the back of the house here; we've never really touched them." We went into this doctor's surgery which was almost exactly the same as it had been 40 years before. So we ended up filming those sequences in the actual room where Pauline was interviewed by the doctor.We also spoke to the woman who was working at the tearooms at Victoria Park and found out exactly where they sitting, and filmed that scene there. Actually, about two months later, that building was demolished.

And what about the murder scene?

PJ: Well, we went to the murder site, and we just felt uncomfortable about filming there. It was very strange, and maybe it was just our imagination, but it was very quiet, very tranquil. I mean, all the way down the path you hear the wind and the birds, and suddenly, when you arrive at the spot, you hear nothing. So we filmed the murder scene at Victoria Park, but it was on a different track, about a hundred yards away.

There is one sequence of scenes in this script which didn't appear in the film. it begins with the tennis party at Ilam, in which Pauline and Juliet are watching from behind some shrubbery as Walter Perry and Hilda Hulme play tennis.

PJ: Well, that sequence was actually shot, and exists in the version of the film that was screened here in New Zealand. When Miramax released the film in the U.S., they had screenings and felt that the film was too long. We had final control over the film, but they pleaded with us to take out about 10 minutes' worth of footage, convinced that it would be tighter. We looked at it, and we actually, ultimately, agreed with them in a funny sort of way. That sequence slows the momentum down. It's quite a fun one to read-and it's fun in the film as well-but it does slow things down at a point where we didn't think things should be slowing down. Although we've had control over the film's release all over the world, we've requested that the sequence be cut out of the versions screened in every other country. When you're writing a script, a part of you thinks, "Oh, this is perfect, we mustn't change a word of it," but once it's finished it takes a life of its own. We felt that the sequence wasn't telling us anything wedidn't already know about the characters, and at a time where the tension in Pauline's house was really growing, going over to Juliet's house to watch a tennis game was not necessary.

FW: I think when we wrote the script we felt it was very much Pauline and Juliet's story. After the edit, however, it became very evident to us that it was Pauline's story which was the through line and the audience's focal point. Whenever we veered too much into telling the Hulme story and Pauline wasn't on the screen, the pace started to flag. That was something we had to look at after the first assembly-we had to trim and cut Hulme scenes because they weren't as fundamentally interesting as the Rieper scenes.

Although this film is very different from Braindead, both take place in the New Zealand of the 1950s. I'm not that familiar with your country, but from watching these two films I would have to assume that it was, at least in that period, a fairly repressive kind of society, acting almost as a breeding ground for transgression, for explosive kinds of behavior.

PJ: Well, the script for Braindead was set in the modern day up until the very last minute. I was worried going into the movie that the hero of the film, named Lionel, acted in a fairly nerdy kind of way-he doesn't socialize, he takes care of his mother-and yet we wanted him to be the empathetic character in the film. I was afraid that if it was set in the modern day, the audience-especially a young audience-would really jeer at this character, and not be able to relate to him at all. If we set it inthe '50s, people might actually feel more sympathy for him, because they would think, "Well, that sort of thing happened then." With Heavenly Creatures, it was really just a coincidence that the actual event had taken place then.

FW: But that repression is still very much in evidence here: we're I not expressive, we're not demonstrative, we're scared of showing, saying too much. When you go to New York, for instance, and people are yelling and the horns are blaring-if that happened here, someone would get out of theircar, rip open your door and bash you up. There's a level of violence, a subtext of violence, running through New Zealand society that comes out in our movies. We have a veneer of being easygoing, but underneath, we're full of rage. It's an interesting social dynamic. and it makes for interesting art, but it's not so pleasant to actually live in it. It's very much to do with a link with England- PJ: Christchurch in particular.

FW: Christchurch suffers from it more than any other city in New Zealand. It's always been described as "a little piece England"; it's considered to be more English than England. It's always aspired to be that, and it still is in some ways.

PJ: The thing with this murder, too, is that the sense you when you talk to the older generation in Christchurch is that it was an embarrassment to the city, that it was somehow shameful and somehow humiliating. Which is ridiculous, because the story is ultimately a family tragedy.

FW: It's been said that Christchurch was more appalled by revelation that Pauline's parents were not married than by the murder itself. And some uncharitable souls even suggested that one sinful act led on to the other.

Speaking generally about your films, you both seem to have a certain love of campiness, which is apparent in the use of caricatures for many characters, as well as in an overall sort of extremism reminiscent of the work of someone like John Waters here in the U.S. What's interesting about Heavenly Creatures is that while it remains a fundamentally "realistic" docudrama, some of the figures of authority, like the doctor, the vicar and the headmistress, are hilariously overplayed.

PJ: Well, I like movies to be entertaining, to be a little larger than life. With something like Braindead, obviously there's no problem doing that. But with 'Heavenly Creatures,' we were telling what we hoped would be a fairly accurate story. At the same time, however, I still wanted to make a movie; I didn't want something totally tied to real life, and totally dull. So we did have a little bit of fun with some of those characters. I guess if you were trying to justify it you could say we were presenting them from the girls' point of view, but that's not strictly true. I just think that there were really only two people who we needed to be realistic with, and they were Juliet and Pauline, both of whom were slightly larger than life anyway. That's something that came across in the interviews with their classmates. They were remembered as being sort of terrifying: Juliet was so confident and loud, and Pauline was brooding and dark. So, in a sense, the film was a perfect one for us. I don't Like doing stuff that's totally naturalistic. I just like having a little bit of fun.

The fantasy sequences are written pretty much as they appeared on film. Were you aware of how, technically, you were going to handle these special effects as you were writing?

PJ: Pretty much. We hadn't used any optical or digital effects in Braindead, and with Heavenly Creatures, I knew that if I actually wrote digital effects into the script, then it was a great excuse to go out and get this new equipment-I have my own special effects company. So right at the beginning we wrote stuff that could only be done with morphing. We got one computer and hired someone to figure out how it all worked.

What about your use of the Plasticine figures? Was that something you'd heard the girls were interested in?

PJ: Yeah, we interviewed several people who remembered that they used to model figures in Plasticine, and I think HERBERT Rieper refers to it in his court testimony. We also interviewed an old guy who had been round to the Hulme's place and had seen Juliet's Plasticine horses on the mantelpiece.

And, of course, there are endless passages in the diaries about Borovnia, and Diello, the murderous prince and all of that. When we thought it would be fun right at the beginning to go into some of these fantasy sequences, the last thing I wanted to do was dress up actors in medieval costumes and crowns and have them looking like something out of a school play. So we decided it would be really fun to tie the Plasticine figures and Borovnia together. And we knew they'd sculpted figures like Diello, so we just thought, why not have those figures come to life, as it were.

What about the linking of certain actors to certain figures, like Orson Welles to Diello?

PJ: Well, that was something that we devised ourselves. But again, that springs from the fact that the girls used to give pet names to people. Like one of the boarders in the diary, for instance, is referred to as John for a while, and then his name changed to Nicholas.

That's referred to in the scene in Pauline's sleepout.

PJ: Yeah, and for some reason, Pauline refers to him as Nicholas in the rest of her diary. That happened with a lot of people. They were clearly using real, live people as prototypes for some of their fantasy characters. We figured that Diello had a lot of qualities that they seemed to fear in Orson Welles. He seemed to represent some sort of dark, sexual force, so we figured that giving his features to the figure of Diello was appropriate.

Could you talk about the fact that, during production, Anne Perry, the mystery writer, was "outed " as being Juliet Hulme?

FW: Well, where do you start? We knew that would be a possible outcome of making this film-that someone might try and track down either Pauline or Juliet. Which was a very good reason not to make the movie. We had more compelling reasons to make the film, however, because if we didn't, anotherone was going to get made anyway. There were, at the time the film was being funded, five competing projects in various states of preparation.

Didn't Dustin Hoffman have something in the works?

FW: His company, Punch Productions, I believe, had a script written by an American writer; Peter had, in fact, been very tentatively approached to read it, that was how we found out about it. At that point we were about a week away from starting to shoot. And then someone was trying to do a film version of the play we've already spoken of, and other people were developing a very politicized lesbian version of the story. Then there'd been a screenplay written by the late English novelist, Angela Carter, that was with a production company in Auckland, and there was someone in Australia developing a screenplay. So we knew that this story was going to come to the screen, soon-there was no doubt someone was going to make it. And we felt that, in that climate, we would proceed, despite the possibility that these women might be exposed.We knew that in Pauline's case it was less likely. We'd heard a lot of rumor and gossip about Juliet, but we'd heard nothing about Pauline, and I think she has very carefully hidden her identity. Juliet went to no such trouble: she took her stepfather's name-Hilda Hulme ended up marrying Walter Perry-as a novelist, and proceeded to write a series of crime novels. You can look up any contemporary author index in any library, and there is Anne Perry, and her birthdate is the same as Juliet Hulme's, her mother's maiden name is the same, etc. There is a gap in her personal history, where she leaves out New Zealand, but it picks up again after she left the country. So it didn't take a huge amount of detective work from the journalist here in New Zealand who had heard that Anne Perry and JulietHulme were one and the same.

That rumor sprang from a production of the play that had gone on here a year before we started shooting, where a friend of Juliet's, who was still writing to her, confided in one of the actors that Juliet Hulme was now writing murder mysteries as Anne Perry. That rumor hew around the acting community here in New Zealand, and it reached our ears on the set, and it was something that we wanted to entirely disassociate ourselves from, because we knew it would damage the film, and we knew it would damage us. It was inevitable that we would be accused of exploiting this woman's situation in order to promote the movie. When this journalist rang Peter and asked what comment he had about the story, he just begged her not to print it. Of course that was a hopeless situation, because she was a tabloid hack who was going to go ahead and make her name, and she has dined off it ever since. We felt an enormous amount of dread, because the movie hadn't had a chance to stand on its own before this was made known, and it's now been inextricably linked with this revelation. So we've been battling that ever since. But given that it's happened, we've had to deal with it, as she has.

PJ: I mean, we were absolutely disgusted by some of the ads Miramax ran. On the day that this was released in America, I rang Miramax and said, "For heaven's sake, don't associate this film with any of this because we don't approve of this publicity." And a couple of months later, lo and behold, we get sent by a friend in the States clippings with these ads saying, "Murder, She Wrote," and these other references to Anne Perry that Miramax had been running, and we were just very, very angry.

Did you fever consider using the coordinates of the actual event, but changing enough of the particulars to push it into the fictional realm?

PJ: No, because the case is so well-known in New Zealand; it would be like-

FW: Fictionalizing the O.J. Simpson case.

PJ: It's unnecessary. I mean, sure, if it was just a movie for international consumption, then, yeah. But the fact is that we weren't actually making this film for an international audience. We were very much making it to try and rectify 40 years of misunderstanding about this case within New Zealand. In a way that was our main motivation for making the film, and in doing that, we obviously had to use their real names. But having said that, "Pauline Parker" and "Juliet Hulme" ceased to exist as people in 1959, because they both took different names. In a sense, I don't think there was any moral problem with using those names, because they themselves stopped using them some 30-odd years ago.

Were there any other films you looked at as inspiration before writing this?

FW: Well, we looked at movies like Let Him Have It, which was based on the Craig/Bentley murder case in England [Bentley was an 18-year-old with a low I.Q. who was hanged for murder]. Although I think that film has quite a lot of merit, in the end it comes across as a grim, dark, true-life murder story, and similarly Dance with a Stranger, which was about Ruth Ellis [the last woman to be hanged in England]. We felt that if there was one thing we didn't want to do, it was to make a depressing murder film. We really wanted to tell a tale of a friendship, rather than a murder story. Sure, the movie ends with a murder, but for the most part, it celebrates friendship.

PJ: We wanted to make it a lot funnier than those films. And people have said, "It's such a serious subject; why did you try to make it funny?" Well, obviously the murder wasn't funny, and we never attempted to make it funny, but the friendship was funny. Life is funny: generally, human beings like to enjoy themselves, and there was no doubt that Pauline and Juliet had a hell of a good time, most of the time.

FW: But the other reason why it was important that we tell this as a true story is that it has a kind of universal truth for anybody growing up. When you're at that age, you become very focused on things in an extreme way. And I don't think Pauline and Juliet are so very different from anybody else; I think several things went wrong in their lives-Juliet's parents broke up, and Pauline became very alienated from her family (she was an obsessional manic-depressive character)-and I think it was this terriblecombination of things that led to this extraordinarily horrible act. But it's not something that can be precluded from anybody's experience in growing up. Adolescence is such a crazy time.

PJ: A lot of women have come up to us and said, "I was Pauline. That was me. That was my childhood." I don't think it's that unusual. I think what is unusual about the whole thing is that these aspects of Pauline's character led to the murder, and I don't think the sort of person she was was particularly unusual or freakish or weird. When we hear things like that, it's the best possible endorsement we could get.

--- Tod Lippy conducted this interview over the telephone with Frances Walsh and Peter Jackson, who were at their home in Wellington, New Zealand ---